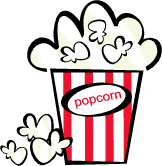 Added to:

Equals:
YUMMY!!
I know, you've never heard of white chocolate pumpkin pie spice popcorn. But if you are having a fall wedding it's a great option to take the place of a candy bar and it's less expensive as well. Serve it in easy popcorn bags and your guests will be raving about it. It's not your mother's popcorn anymore--unless your mother is a Martha Stewart wannabe. But it will be a real hit.
I discovered white chocolate popcorn at a blogging event last Christmas and fell in love with this use for white chocolate. I'm not a huge white chocolate fan and was leary of trying it but tried some to be polite. I have to admit I quickly went back for seconds (as did almost everyone else!) So give this a try.
Make your popcorn ahead of time and have it ready to serve. You can also serve it in popcorn balls as favors.
Recipe for White Chocolate Pumpkin Pie Spice Popcorn
1/2 C unpopped popcorn, (this should yield about 10-11 cups popped)
1/2 C butter, unsalted
1 C packed light brown sugar
1/4 C light brown corn syrup
1 1/2 tsp cinnamon, (ground)
3/4 tsp nutmeg, (ground)
3/4 tsp ginger, (ground)
1/4 tsp cloves, (ground)
1/2 tsp salt
1 tsp vanilla extract
1/4 tsp baking soda
5 oz white chocolate chips (you could also use chopped white chocolate)
Preheat over to 250 degrees. Pop popcorn, dump into a large container and remove any unpopped kernels. Put butter in medium saucepan and melt. Add brown sugar, spices and salt to the butter. Bring to a boil and allow to boil 4 minutes without stirring. Then remove from heat source and add baking soda and vanilla. Stir until thick and glossy. Pour 1/2 of caramel over popcorn. toss several times, then quickly add remaining sauce, toss again. Put popcorn on a jelly roll pan and spread out. Bake for 1 hours, still every 15 minutes. Let cool completely. Next, in microwave-safe bowl add melt white chocolate on 50% power, stirring every 20 seconds until smooth and melted. Pour melted chocolate into a Ziploc bag, cut off a corner so you can use it to pipe the chocolate over the popcorn. After piping chocolate over popcorn, let it harden before putting the popcorn away in a tin or other airtight container. It will last about 1 week so you have time to make it before your wedding or other event. You can bag popcorn ahead of time or just have it ready for someone to serve at your party. You can also line a glass with some parchment paper to make it pretty.
Absolutely love this popcorn! The trick at my house? To keep it away from my husband until party time! It also makes a nice dessert for the kids for Thanksgiving.